Meet our 2018-2019 Co-Chairs...
Emily Chiu
President
Class of 2019echiu@chicagobooth.edu

Welcome to Booth OUTreach! I'm a second-year student and native Chicagoan. Prior to Booth, I worked as an economic consultant in Chicago, working mostly on antitrust and finance matters. I came to b-school to pivot into a new career, and chose Booth for it's smart, down-to-earth students, pay-it-forward culture, and academic rigor. In addition to OUTreach, I'm a member of the Dean's Student Admissions Committee, Booth Tech Group, and NetImpact, but some of my favorite Booth moments have been with OUTreach - in particular our Holigay Party and retreat to New Orleans! Outside of Booth, you can find me exploring the city by bike or recording my podcast about Grey's Anatomy (it's as serious and culturally relevant as it sounds). Feel free to ask me about: Chicago/life outside MPP, switching careers, or transitioning back to student life.

---

Chris Palencia
Admissions Co-Chair
Class of 2019cpalenci@chicagobooth.edu ​

​Hi everyone! I'm a second-year student originally from Los Angeles. Prior to moving to Chicago, I spent several years working in investment banking with Morgan Stanley in New York and São Paulo, Brazil, and was most recently in San Francisco working on new market strategy for the nation's largest residential solar developer. I'm an architect by training, and at Booth I get to explore my interest in urban development as Co-Chair of the Real Estate Group. I love Chicago because it's a big, vibrant city with lots to do, see, and eat! My favorite experiences at Booth so far have involved getting to know my classmates, including on an amazing spring break trip to Colombia and an OUTreach weekend in New Orleans!

---

Kelly de Klerk
Professional and Alumni Relations Co-Chair
Class of 2019kelly.deklerk@chicagobooth.edu Hey Everyone! I'm a second-year student, originally from the Boston area. Before Booth I worked in fundraising and communications for non-profits and social enterprises including Design that Matters and Farmerline. Some of my best experiences at Booth include hanging out in New Orleans with OUTreach, participating in the CRED Challenge, and traveling to UNC for the Invest for Impact competition. I live in the South Loop with my wife, Kate.Favorites: British crime dramas (with or without a strong female lead), Boston Red Sox, interval training, fiction, and cities with more than 8 months of winter.Ask me about: social impact, social entrepreneurship, consulting recruiting, extracurricular programs through the Rustandy and Polsky Centers.

---

Yonatan OhanaStudent Engagement Co-Chair
Class of 2019yonatanohana@chicagobooth.edu
Shalom! I am an international student from Tel-Aviv. Always up for a new challenge, I've been an intelligence analyst in Israel Defense Force, a lawyer and most recently a Credit Rating Analyst. I came to Booth to explore better/bigger U.S opportunities with the support of the Booth community and especially OUTreach members, who have been my social and professional anchor here at Booth. At Booth, I am trying to make the most both of school and all that Chicago has to offer; you'll find me on the red line on my way to boystown, catching live concerts, filling my American politics gaps at the UChicago Institute of Politics and completing my Best Vegan-Friendly restaurant list. I am Also a co-chair for Jewish business Student Association and an active member of the Armed Forces Group.
Ask me about: #InternationalStudent #UChicago #CareerSwitch #ChicagoLGBTQ #MPP #NovakDjokovic

---

JC ChungCommunity Development Co-Chair
Class of 2019jcchung@chicagobooth.edu
Hello! Y'all can call me JC (she/her/hers)! I grew up in Texas but have been in Hyde Park since undergrad. Before Booth, I was in consulting with A.T.Kearney, applying big data analytics and technology to traditional management consulting. In OUTreach, I love bringing the community together over good food (BBQs and Small Group Dinners) and weekend trips (Fall and Spring Retreat). I'm also co-chair for Booth Technology Group, focused on tech education and interview prep for incoming first years. While at Booth, I've had the opportunity to build a start-up, Trax MRE, with the support of Polsky Exchange and 1871's WiSTEM program. I'm frequently found not in Chicago at conferences like ROMBA, LesbiansWhoTech, Out Women in Business and others.
​Ask me about #lesbianswhotech #managementconsulting #btg #romba #startups #polskeyexchange #1871 #wistem #owib #hydepark #Chicago

---

Conor Coughlin
Ally Co-Chair
Class of 2019ccoughlin@chicagobooth.edu

Hey all! I am a second-year at Booth originally from Westchester, NY. Prior to moving into my MPP studio, I lived and worked in Boston and New York as an economic consultant (just like my friend and our leader, Emily). I worked primarily on projects related to energy and environmental economics. I came to Booth to change careers, to meet new people, and to have new experiences. Some Booth highlights for me (outside of everything OUTreach, that is) have been Random Walk Mystery (leading the 2018 trip) and winning my first and only case competition. Ask me about: MPP, RW Mystery, Chicago class gyms, grain bowls, Town Hall Pub('s jello shots)!

---
Powered by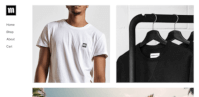 Create your own unique website with customizable templates.